Fabulous pedicure tool includes pumice / brush / metal file / emery file to provide a full pedicure experience for you. Memory foam insoles give a great performance of buffering and memory function and helps to provide a more comfort and stable fit in shoes.
Package Includes:
1x Pedicure Tool
1 Pair of Footful Memory Foam Insoles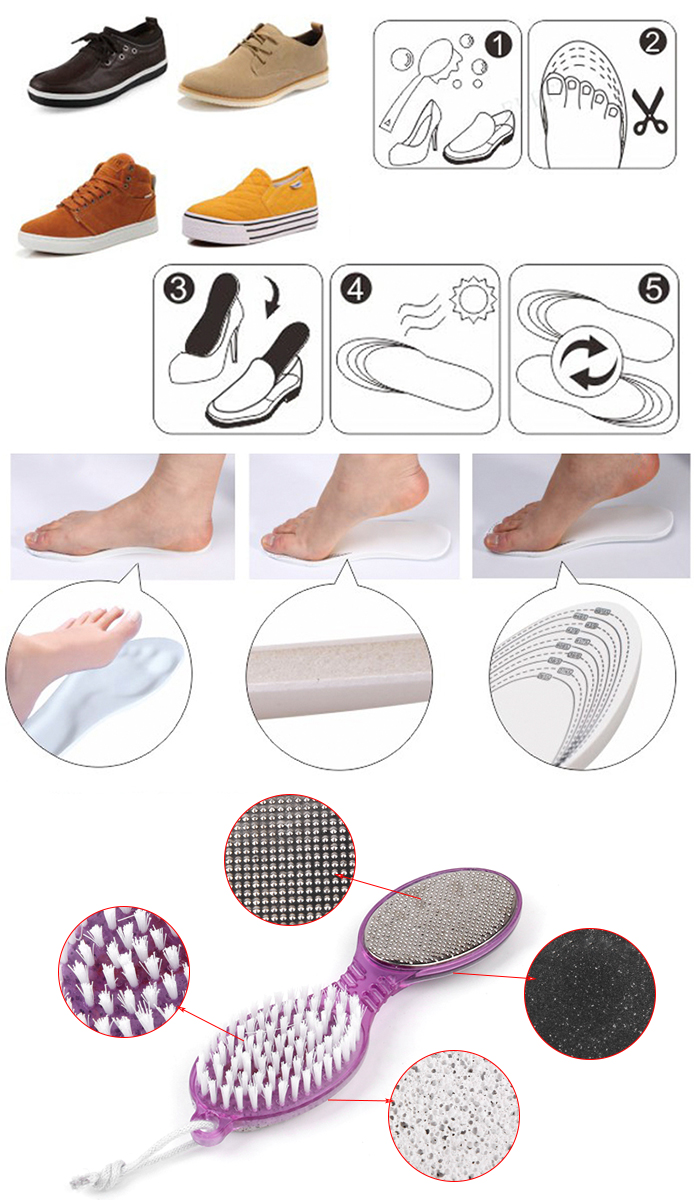 Pedicure Tool Description:
Handy pedicure paddle combines 4 tools in one durable, two-sided handle
Designed specially for your feet to gently remove calluses and dead skin
Pumice for removing dead skin and dry skin, brush for cleansing of skin
Contain a brush, a pumice, a metal file and a emery file
Metal / emery file are for smoothing
Overall Size (L x W): Approx. 6 1/2 x 1 7/10 inch / 16.5 x 4.3 cm
Color: Multiple color, random delivery
Memory Foam Insoles Descriptions:
Specially designed for anyone who suffers from foot pain like painful heels, plantar fasciitis, swelling feet, blisters on sole etc
Automatic shape memory function helps to provide a more comfort and stable fit in shoes
Fit for both men and women and children with sizing line at the back for cutting
Size(Cuttable): (L x W )Approx. 11 4/5 x 3 7/10 inch / 30 x 9.5cm
Height: Approx. 3/10 x 2/5 inch / 0.8-1.1cm
Material: Slow rebound memory foam
Color: White

Why FootfulTM
Professional
Footful 's team is multinational, bringing together expertise in design, manufacture and application of foot care products, delivering the maximum value to the market's needs.
Quality Assurance
Footful 's manufacturing facility registered to ISO 9000:2011 quality management system standards.
Low price
Selling online only.
From factory to customers directly, spared the middleman.
Buyers Who Bought This Item Also Bought
Payment Methods
Related Items