Ingrown toenail is a common problem, these set of nail cutters are specially designed for ingrown nails.
Package Includes:
1 x Nail Clippers
1 x Large Nail Clippers
1 x Paronychia Nail Clipper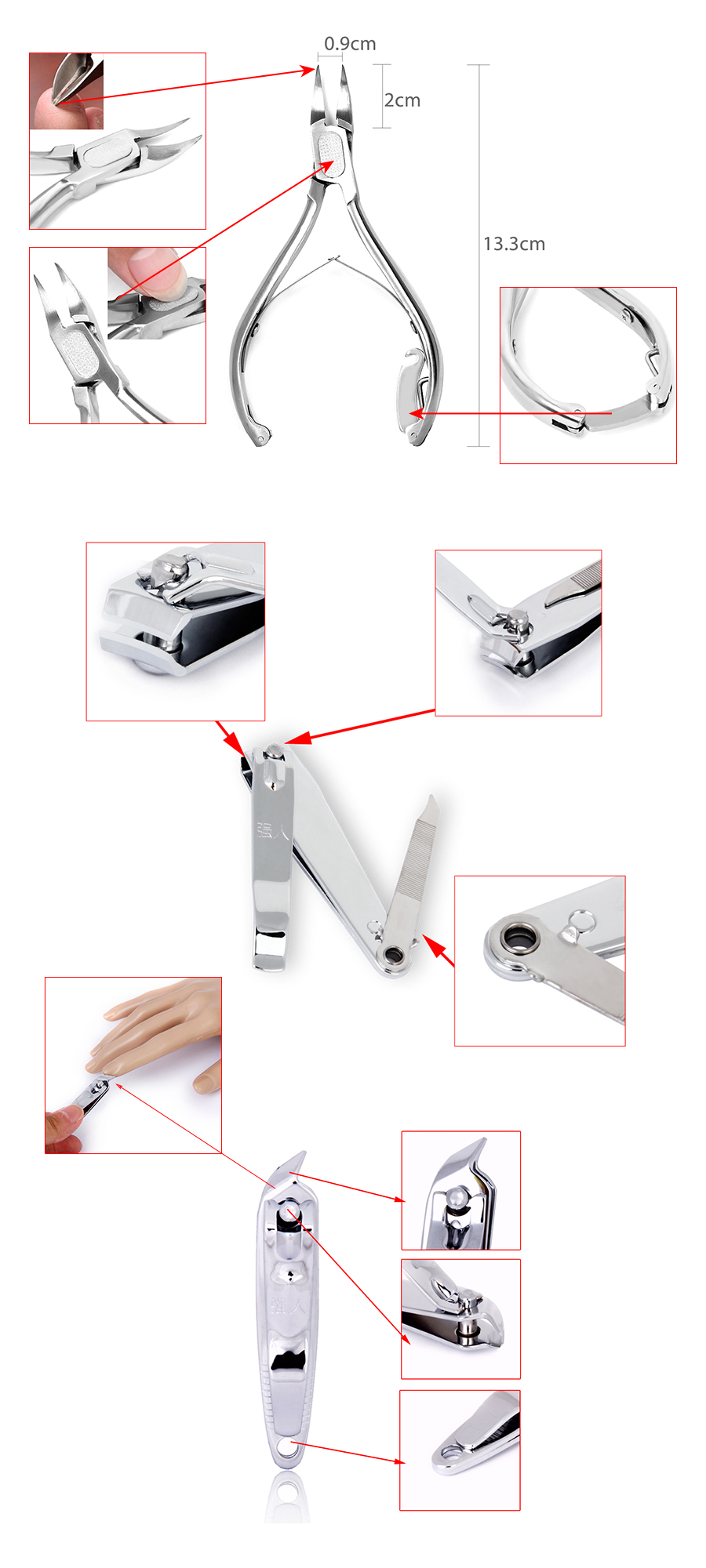 Large Nail Clippers:
Large size with nail file, great for cutting thick nails and toenails
Dimension: 78.2*16mm / 3.08*0.63 Inches
Material: Stainless Steel
Color: Silver
Paronychia Nail Clipper:
Material: Stainless Steel
Total Length: 13.3CM / 5.2inch
Length of the cutting edge: 2CM / 0.79inch
Width of the opening gap: 0.9CM / 0.35inch
Spring Applied Curving Closable End for convenient and safe carrying
Great for trimming ingrowing nails, thick nails, hard nails, leuconychia, corn etc.
Specially designed for ingrowing nails, with the longest and sharpest cutting edge, made of stainless steel
This item is also designed with a plastic cap for the cutting edge. Uncap before use, and unclose the end at the hand grips. Remember to clean it up after use, close the grips and cap the edge.
Nail Clippers
Small size with slanted edge for convenient use
Dimension: 61*12mm / 24*4.7 Inches
Material: Stainless Steel
Color: Silver
Note:
Clean the residuals after use each time

This item is recommended for private use. If used by another person, disinfection is suggested

Please cap the edge when not used for a safe storage

Keep it out of reach of children; avoid places that're wet and water.

Why FootfulTM
Professional
Footful 's team is multinational, bringing together expertise in design, manufacture and application of foot care products, delivering the maximum value to the market's needs.
Quality Assurance
Footful 's manufacturing facility registered to ISO 9000:2011 quality management system standards.
Low price
Selling online only.
From factory to customers directly, spared the middleman.
Buyers Who Bought This Item Also Bought
Payment Methods
Related Items